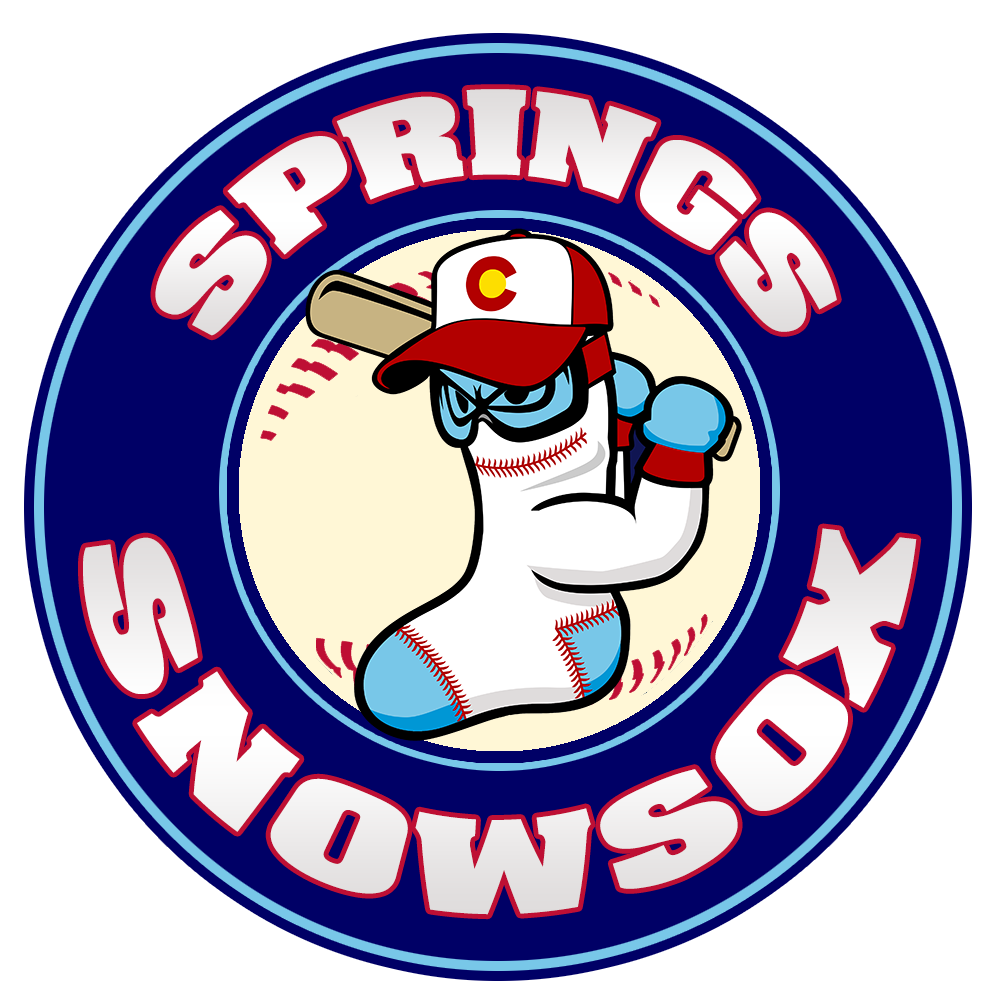 The Colorado Springs SnowSox play in the Mountain Division of the Pecos League. 2021 was their first year in which they qualified for the playoffs.
History of Pro Baseball at Spurgeon Field
The Colorado Springs Sky Sox were a Minor League Baseball team in Colorado Springs, Colorado. The team played in the Pacific Coast League (PCL) and was the Triple-A affiliate of the major league Milwaukee Brewers (2015–2018), Colorado Rockies (1993–2014), and Cleveland Indians (1988–1992). The Sky Sox won the PCL title in 1992 and 1995.

From 1950 to 1958, the original incarnation of the Colorado Springs Sky Sox were a Class A affiliate of the Chicago White Sox in the Western League. The Sky Sox's nickname originated with their affiliation with the White Sox. The Pikes Peak region was without professional baseball for 30 years until 1988, when the Hawaii Islanders of the PCL relocated to Colorado Springs and became the second incarnation of the Sky Sox. From 1988 to 1992 the Sky Sox were the Triple-A affiliate of the Cleveland Indians. When Denver was awarded a major league franchise for the 1993 season, the new Colorado Rockies arranged for the Sky Sox to become their top farm team.

During their first season, the Sky Sox played at Spurgeon Stadium for several weeks of the season until their new stadium was built. The Security Service Field ballpark, on the eastern edge of Colorado Springs, cost US$3.4 million[2] to build and held 8,500 spectators.
Spurgeon Field
The original home of the Triple A Colorado Springs Sky Sox when the team return to the city in 1988, Spurgeon Field will serve as the home for the University of Colorado Colorado Springs for the inaugural season in 2017. Owned and operated by the City of Colorado Springs, the facility is the showcase field for the city's parks and recreation department and has the largest seating capacity among the venues at Memorial Park.
The Sky Sox played in the facility in 1950 when the team was affiliated with the Chicago White Sox, and the team returned in 1988 from Hawaii as an affiliate with the Cleveland Indians. The team eventually moved to Security Service Field in northeast Colorado Springs, where UCCS will finish the regular season in a single, nine-inning game with NCAA Division I Air Force on May 2.
The field is part of the larger amenities provided in Memorial Park, which features the 7-Eleven Velodrome, the state's second-largest skate park and the Sertich Ice Center. The park hosts the Labor Day Lift Off balloon festival and the Pikes Peak Celtic Festival.
The park includes Prospect Lake for swimming, boating and fishing, on land that was donated by Colorado Springs founder General William Jackson Palmer. The park also honors heroes with the International Association of Fire Fighters' Fallen Fire Fighter Memorial and the Veterans Memorial for each branch of military service.
About Colorado Springs Snowsox

The Colorado Springs Snowsox are a Professional Baseball Team in the Pecos League of Professional Baseball Clubs. Other teams in the Pecos League include: ( Alpine Cowboys, Austin Weirdos, Bakersfield Train Robbers, Blackwell Flycatchers, Dublin Leprechauns, Garden City Wind, Lancaster Sound Breakers, Martinez Sturgeon, Marysville Drakes, Monterey Amberjacks, Roswell Invaders, San Rafael Pacifics, Santa Fe Fuego, Trinidad Triggers, Tucson Saguaros, Vallejo Seaweed.)

The Pecos League was founded in 2010. To learn more about the Pecos League (Visit Here.)




See Colorado Springs Snowsox All Time Opponents
See Colorado Springs Snowsox All Time Managers

The Colorado Springs Snowsox play at
Spurgeon Field
1605 E Pikes Peak
CO Springs, CO 80903